Tanzania Bureau of Standards visit SABS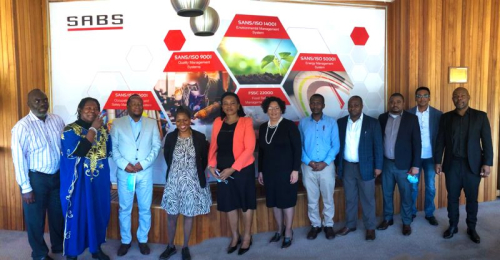 The South African Bureau of Standards (SABS) hosted the Tanzanian Bureau of Standards (TSB). After an exploratory site visit the last few days at the National Metrology Institute of South Africa (NMISA), they joined the SABS Team for robust discussions around Standards Development and African Trade Solutions.
SABS Team: Lead Administrator: Jodi Scholtz, Executive Standards: Dr Sadhvir Bissoon, Richard Sadiki, Sindi Khoza, Peter Solly, Kholeka Nefadi and Thabo Sepuru.
TSB Team: Rehema Kitambi, Athuman Kisumo, Judica Jared Mushi, and Stella Mrosso.
ARSO Mutual Recognition Championship Initiative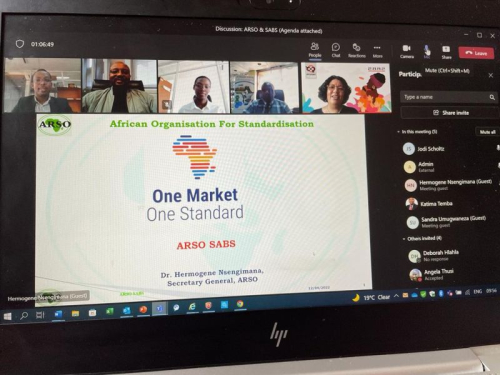 The SABS Management team, headed by Jodi Scholtz, accompanied by Dr Sadhvir Bissoon and Katima Temba, met with the ARSO SG: Hermogene Nsengimana, to discuss their strategic plan and critical projects. #onemarketonestandard
ARSO Central Secretariat officially submitted South Africa through SABS as a member of the African Organisation for Standardisation – ARSO MRAs Champions Initiative, joining hands with the current members, Ghana, Kenya, Nigeria, Rwanda and Zimbabwe.
Mutual recognition of accreditation and certification systems will facilitate access to the single African Market and provide the technical underpinning of the trade barriers. It will give cross-border stakeholders confidence and acceptance of accredited test data and certified results, facilitating free movements and cost-cutting of goods and services while promoting intra-African trade and realising the free-trade goal of 'tested, inspected or certified once and accepted everywhere, within the African single market.
SG also shared information about ARSO's ACAP (African Conformity Assessment Program), identifying schemes relevant to the African continent. A highlight was where South Africa could increase her contribution to the technical committees! When Africa UNITES, we build a more robust and safer environment for our people!
Record Number of Standards Published

The South African Bureau of Standards (SABS) has published 414 national standards in the financial year that ended 31 March 2021. The publication of standards includes new standards, adopted, amended and/or revised standards. 127 new standards were published.

206395@FGeippq7NulKp-F29obA5uqAzVxGa4L-SFi1yMeLGIo.@" target="_blank">VISIT OUR STANDARDS WEBSTORE
IEC Young Professionals Essay Competition

Two Young Professionals have the opportunity to attend the IEC Young Professionals Workshop to be held in conjunction with the IEC General Meeting in San Francisco, United States of America: 31 October to 4 November 2022.

Topic: How can Standardization be used to enhance the integration of Renewable power system while reducing the energy cost of the end user. Closing Date: 17 June 2022.
Advanced Driver Steering Systems
206398@FGeippq7NulKp-F29obA5uqAzVxGa4L-SFi1yMeLGIo.@" target="_blank">

SANS 20079 intends to establish uniform provisions for the layout and performance of steering systems fitted to vehicles used on the road. Traditionally the primary requirement has been that the central steering system contains a positive mechanical link between the steering control, usually the steering wheel, and the road wheels to determine the vehicle's path. The automatic link, if amply dimensioned, has been regarded as not being liable to failure.
Aligning Standards For Taps
206400@FGeippq7NulKp-F29obA5uqAzVxGa4L-SFi1yMeLGIo.@" target="_blank">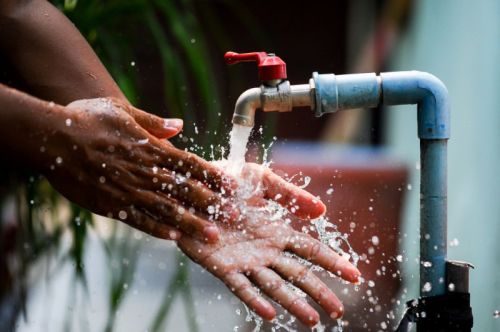 South Africa can significantly improve water and energy efficiency by aligning its tap labelling programme with international standards, a new study by the South African National Energy Development Institute (Sanedi) and non-governmental organisation Clasp shows.
The 'In-depth assessment of water efficiency opportunities in South Africa' study, released ahead of National Water Week from March 20 to 26, found that standards for taps and showerheads could contribute to mitigating the country's water and energy crises by reducing the use of water and electricity needed to heat some of that water.
206401@FGeippq7NulKp-F29obA5uqAzVxGa4L-SFi1yMeLGIo.@" target="_blank">BUY STANDARDS HERE
Gender Responsive Standards

Inadequate participation and underrepresentation of women in standardisation remain a global challenge. As part of a worldwide effort to address this problem, SABS seeks to proactively focus on initiatives that are expected to improve the participation of women in standardisation activities, thereby enhancing gender responsible standards and standards development.
For organisations asking how to improve the quality of their products and services and consistently meet their customers' expectations, SABS has an answer.

Addressing various aspects of quality management and containing some of SABS's best-known standards, there's the SANS 9000 family.

206404@FGeippq7NulKp-F29obA5uqAzVxGa4L-SFi1yMeLGIo.@" target="_blank">BUY SANS 9000 STANDARDS HERE
Think Before You Throw This

The South African Bureau of Standards supports FSC Southern Africa on Global Recycling. Support a cleaner planet and recycle your Lifestyle. This year we celebrate the recycling fraternity and promote education about the importance of recycling in creating a cleaner environment free of waste pollution. We acknowledge those who put themselves on the frontline to collect waste and recycling during the multiple lockdowns.

206406@FGeippq7NulKp-F29obA5uqAzVxGa4L-SFi1yMeLGIo.@" target="_blank">BUY RECYCLING STANDARDS HERE
SANS 1853 | Disinfectants

SANS 1853: Disinfectants, detergent-disinfectants and antiseptics for use in the food industry .

This standard specifies general requirements for disinfectants, detergent-disinfectants, and antiseptics (such as antibacterial hand soap and cleansers) used in the food sector.

SANS 241 | Drinking Water Quality

The draft seventh edition of the national standard SANS 241 – Drinking Water Quality has been published for public comment until June 29 as the South African Bureau of Standards (SABS) and its Technical Committee 147- Water (SABS/TC 147) works to revise and update the requirements of the national standard for drinking water in South Africa.
SANS 56002 | Innovation Management

The SABS South African Bureau of Standards hosted a webinar on SANS 56002 – Innovation Management System Guidance. Standards department Programme Director: Mmakgabo Maheya organised this webinar to engage with stakeholders to have a closer look at the Innovation standard.

Our speakers: Dr Sadhvir Bissoon, Mteto Nyati (Altron), Prof. Ben Anderson from The Da Vinci Institute and Henra Mayer.

206410@FGeippq7NulKp-F29obA5uqAzVxGa4L-SFi1yMeLGIo.@" target="_blank">BUY SANS 56002 HERE
SANS 10087 – LPG Installations

South Africa's largest short-term insurer Santam has urged households to look for alternatives as a way of dealing with load shedding – including a possible shift to gas appliances.

206412@FGeippq7NulKp-F29obA5uqAzVxGa4L-SFi1yMeLGIo.@" target="_blank">BUY SANS 10087 HERE

This message contains privileged and confidential information intended only use of the addressee. If you are not the intended recipient of this message, you are hereby notified that you may not disseminate, copy or take any action based on the contents thereof; and are kindly requested to inform the sender immediately. Any views expressed in these messages are those of the individual sender, except where the sender specifically states them to be the view of the Retail Motor Industry Organisation. While every care has been taken in preparing this document, no representation, warranty or undertaking (expressed or implied) is given, and neither responsibility nor liability is accepted by any member of the Retail Motor Industry Organisation as to the accuracy of the information contained herein, or for any loss arising from reliance on it.